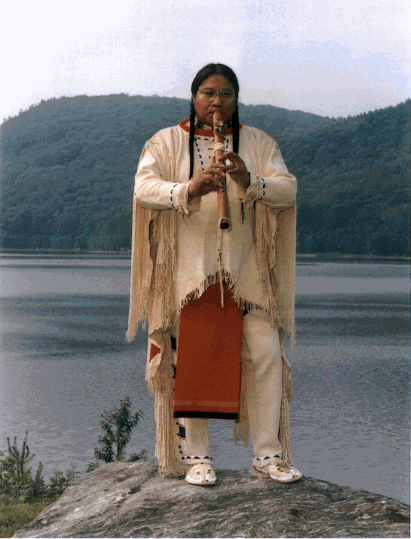 "The natural beauty of the flute evokes very powerful emotions. The traditional flute is social, not ceremonial, in nature, and should always be treated with that in mind and spirit."
About
Joseph FireCrow is one the top 3 Native American flute players in the world today. Echodisc said in a review, "Joseph FireCrow is quite simply one of the most gifted players of the Native American flute". Another reviewer described FireCrow as a "national treasure".

FireCrow has released 8 solo albums to date, 6 internationally. His accomplishments include a GRAMMY™ in the New Age category as a guest artist on David Darling's "PRAYER FOR COMPASSION", a GRAMMY™ nomination in the Best Native American Music Album category, 7 Native American Music Awards: Songwriter of the Year, Best Instrumental Recording and Flutist of the Year (3), Artist of the Year, and Song/Single of the Year; as well as a Telly award.

Awards:
Winner
1999 Telly Award, Elfie's Eye/Creator's Prayer (Fire Crow)
2000 Best of Short Takes, Today's Librarian (Cheyenne Nation)
2003 NAMA Songwriter of the Year (Legend of the Warrior)
2004 Flutist of the Year, Indian Summer Music Awards (Legend of the Warrior)
2005 NAMA Best Instrumental Recording/Parmly's Dream 2005 (Signature)
2006 NAMA Flutist of the Year (Red Beads)
2010 Best New Age Album, 52nd Annual GRAMMY™ Awards (Prayer for Compassion, David Darling)
2010 NAMA Flutist of the Year (Face the Music)
2010 Artist of the Year (Face the Music)
2011 NAMA Song/Single of the Year (Out of Many, We Are One)
2013 NAMA Best Flute Recording (Night Walk)